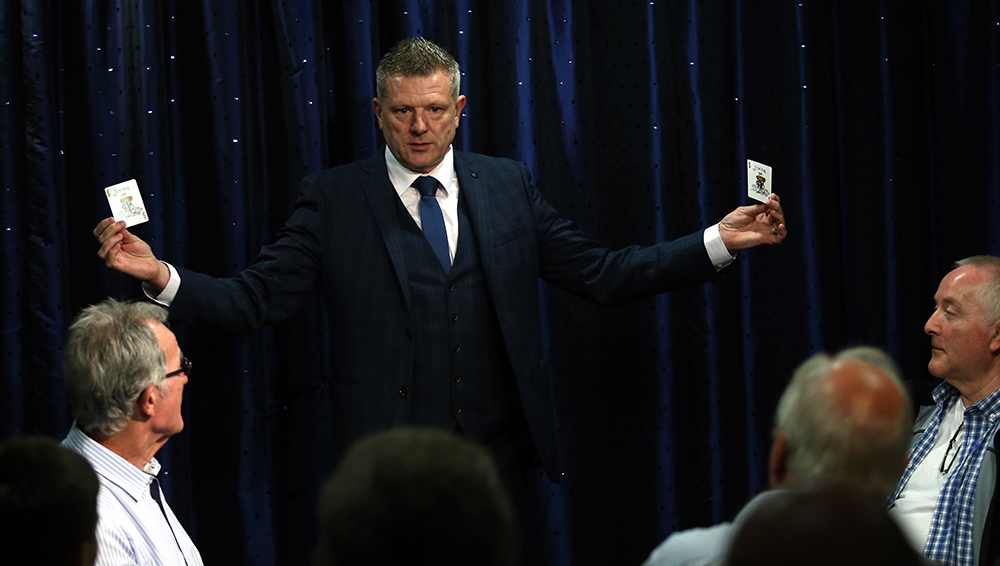 A magician is a wonderful way to amuse and entertain guests at weddings, corporate events, parties and other special occasions. A skilled magician can hide in plain sight and "wow" people when they least expect it or can excite and amaze them during a live scheduled performance.
Either way, adding a quality magician or illusionist to your next event will help make it both memorable and successful. Are you ready to make your next event a magical one? If so, the following tips will ensure that you know exactly what to look for in a magician and what to expect from his performance.
Types of Magic
Not every magician is trained in, or perform all fields of magic. It is important that you have an understanding of what types of illusion the magician that you are considering hiring is skilled at performing. For example, there are some magicians that only perform stage magic, while others may specialise in childrens shows. Some magicians, like Michael Pearce are skilled in a variety of styles.
So, the first step in hiring a magician is to decide what types of magic you want the magician to perform. If you want a variety of styles, you need to make sure that your magician is skilled at the different types of magic.
It is important for you to know the personality of your group or guests and the tone that you are trying to set. Are your guests the type of people that want to laugh or would they enjoy a more intellectual and mysterious style? Is your event a party where humour is appropriate or are you entertaining a more conservative crowd?
Sometimes, the venue will have an impact on the types of magic that will be performed. For example, the venue for your corporate event might have a stage that would be great for a stage show, while an outdoor wedding venue might require the magician to mill about the crowd and perform close-up magic.
The following are the most common styles of magic performed at weddings and other events:
Close-up Magic
This is magic or illusion that is performed with small groups of people where the magician is only a few feet or less away from the guests. Close-up magic works great when you want the magician to mingle with your guests or walk throughout the crowd.
Table Magic
As the name suggests, this is magic performed at a table or from table-to-table. The effects are still considered 'close up' but are performed at each table, usually between courses. Table magic can be more scripted compared to traditional close-up magic.
Mentalism
Commonly referred to as 'Mind Reading', Mentalism has become extremely popular since Derren Brown first came to our screens in 2000 with his series 'Mind Control'. This type of magic will leave your guests in shock and disbelief as Michael reveals merely thought of and makes astounding predictions.
Stage Magic
In a stage magic performance the entire audience watches the magician perform a show or routine. Here, the magician can bring guests up on stage to assist with tricks and can be even more scripted.
Quality of the Performer
While knowing your guests, venue and event mood is critical, the quality of the magician is equally as important. Here are a few tips to help you decide if the magician you are interested in hiring is right for you.
Just about anyone can hold themselves out to be a magician. So how to you determine whether the performer you are selecting has the requisite skill and experience necessary to thrill your guests?
It is important to look beyond the magician's home page. You should look for videos of the magician demonstrating his skills or performances. In particular, you want to look for videos showing the tricks from start to finish, not edited portions of tricks. Read the comments to the videos and see if anyone has had an experience with them.
Additionally, look for online reviews about the magician. Sites like Google and Yelp are excellent sources. You can even ask the magician for a few references from previous clients.
Finally, you should always speak with or meet the magician prior to hiring them. You need to make sure that you understand their style and they understand your needs. One of the biggest mistakes a person can make when hiring a magician is not talking to the magician before they are hired.
When you speak with the magician, you should ask about the styles of magic they perform, how long they have been performing and if they have ever performed at an event that is similar to yours. It is also a good idea to find out what the magician will wear for your event. At a wedding you may want to make sure that the magician will be wearing a tuxedo or suit to blend in with guests. If your event is more casual, the magician might look out of place wearing a tuxedo.
Insurance, Contracts & Price
Some venues require that the magician be fully insured. If your venue does, you should be able to obtain a copy of the magician's certificate of public liability insurance. In general, quality magicians carry insurance unlike magicians that perform as a hobby.
Most magicians will have some form of contract that you will need to sign. You should have an opportunity to review the contract prior to hiring the performer and they should be willing to answer any questions that you may have about the document.
While it should be part of the contract, it is important for you to understand how you will be charged for the performance. Some magicians ask for a deposit and then collect the balance after the performance while others ask for 50% upfront. Price is something that you need to address first and foremost so that there are no surprises on the day of the event.
Let's face it, weddings can be all the same. Food, dancing, music and bad toasts from drunken relatives. Why not make your wedding an event that people will remember? A great way to do that is by including a magician.
Michael Pearce is a professional, experienced and award-winning wedding magician and entertainer who has thrilled and captivated guests at hundreds of weddings and related events in the UK.
Master Magician, Michael Pearce, uses his brand of modern magic to break the ice for guests, "wow" family and friends during pre-wedding parties or meals, and captivate wedding guests with some mind-bending close-up magic and illusions. Michael will undoubtedly make your wedding or civil ceremony one that your guests will never forget!
Don't let your big day be just another wedding. Make it truly memorable by adding some close-up or table magic from Michael. He has the ability to truly captivate and engage his audience. For example, imagine the fun your wedding guests would have as Michael moves from table to table reading your guests minds or performing mesmerizing interactive magic.
Michael knows how important your wedding is and never fails to amaze. He loves performing his unique style of magic at weddings and interacting with guests. He can bring smiles to the faces of everyone and entertain them with a mind-blowing array of close up magic effects that make your big day even bigger.
What is the best way to have Michael perform at your wedding?
There is absolutely no right or wrong time to include a magician during your wedding. It really is a personal preference. However, most clients prefer that Michael perform either, (1) after the ceremony at the drinks reception, (2) during the wedding breakfast, and/or (3) at the evening reception.
The Drinks Reception
While you are busy taking photos and the like, Michael will mix and mingle with your guests and keep them entertained until you arrive. You won't have to worry about your guests, just about looking amazing for your photos.
The entertainment begins a little after your guests arrive from the service.  As they gather, Michael entertains each group with amazing magic designed to break the ice and put guests at ease. Michael then continues to entertain the guests throughout the meal.
The entire performance lasts approximately 3 hours.
The Wedding Breakfast
Table magic is one of the most popular times to have magic at your wedding. Clients love having Michael perform at the wedding breakfast as he goes from table to table,entertaining your guests with highly skilled sleight of hand and mind reading. This is both interactive and guaranteed to have everyone laughing in between the courses of the meal.
Working closely with the waiting staff, Michael will time this to finish just before the speeches.
Typically, Michael will perform 2 hours of his award-wining close-up magic and mentalism.
The Evening Reception
Michael will perform before and/or during your evening reception and will ensure that your guests are having the time of their lives. While you dance and greet guests, Michael will keep the audience fully engaged and entertained.
Once the meal is announced, Michael ensures that all guests are entertained with close-up magic while they are waiting for a turn at the buffet or for others to finish their meal. The amazement, laughter and fun continue until the band or DJ take over.
This is typically a 2-hour booking.
No matter which option you feel will work best for you, Michael will tailor his performance so that your guests talk about your special day for years to come.
Now it is time for you to add some magic to your big day! If you want to make your wedding a truly memorable experience for your guests, please contact Michael to discuss your wedding needs.
A cabaret show is a 20 – 60 minute show performed for the whole audience. Michael can supply a number of options for cabaret including; Classic Magic, Comedy Magic or Mind Reading.
Michael is happy to discuss your event in detail and if required, create a bespoke cabaret act for your company, wedding or private party.
Cabaret makes an excellent addition to any event, giving everyone to opportunity to enjoy Michael's performance together.
You can add some excitement to your next corporate event by having award-winning magician Michael Pearce perform at your event. Whether you are arranging a trade show, open day or conference for your company, Michael will amaze and captivate your clients and guests with a wide variety of modern and exciting magic.
Michael can help bring your corporate event to life by incorporating your companies' logo, product or business card into his tricks. This will leave your guests with a wonderful association between your company and a fun magical experience. Plus, it will ensure that they walk away with your business card in their hands.
Michael's skill and extensive experience allows him to adapt his performance to suit your corporate needs. He can mingle with guests during a reception or perform amazing close-up magic in between courses of a dinner or a banquet.
Michael regularly works with a number of high profile clients and organizations including, The House of Lords, Monarch Airlines, Wentworth Golf Club, Heritage Inns, Marriot Hotels, The Royal College of Surgeons and The Hilton Hotel Group.
Michael also performs at corporate parties and holiday gatherings and makes every event one to remember.
If you are exhibiting at a trade show, then as you will know one of the most vital aspects is standing out and drawing people to your stand or exhibit. Do you want to draw a larger crowd to your exhibit? Do you want to have your products or services presented in a magical way? Would you like to provide your customers with an amazing and unforgettable experience? If so, you need to have Michael in your corner.
Having Michael perform at your tradeshow will ensure that your stand or booth gets maximum visibility and attention. Michael's magic not only draws people in but keeps them there allowing you to maximize sales and exposure to your products or services.
If you want to make your next corporate event or tradeshow memorable, fun, exciting and successful contact Michael now to discuss your needs.
It takes a lot of work to keep your party guests entertained. Stop worrying about whether your guests are having fun and let Michael handle the entertainment. His unique style of award-winning magic is sure to captivate and entertain each and every party guest. Michael has performed at hundreds of parties and always creates a fun, memorable and magical experience for everyone.
Michael regularly performs at birthday parties, anniversaries, hen dos, christmas and holiday functions and every other type of party you can imagine! Your guests will have an amazing and magical experience that they will cherish for years to come.
Michael thrills party guests with his fun and interactive performances that will keep everyone engaged. Michael can tailor his performance to meet your specific needs. He will mingle with small groups and give them an unforgettable experience, entertain between courses if it's a meal setting, or provide walk around close-up magic if you desire a more casual experience.
Unlike many magicians, Michael always offers his clients a chance to meet with him before booking so that you can feel comfortable and confident that that you are hiring the best magician for your party or event.
Contact Michael now to schedule your meeting.